Club Participation
From ConRunner
Overview
A Convention should have a symbiotic relationship with the local genre clubs in their city. You should make and maintain contact with them.
Club Tables
Sometimes tables are set up in open spaces or dealers room for clubs to set up and represent themselves. These may be full time emplacements with permanent fixtures or temporary table usage with only a sign and a clip board.
Flyer Tables
Flyer Tables happen whether you expect them to or not. They are normally tables in the main public areas set aside for the purpose. Other cons, dealers, bands and clubs will leave stacks of their material there for people to pick up. If you are not careful, any level horizontal surface left unattended will become a flyer table, and it can become unsightly.
Club Displays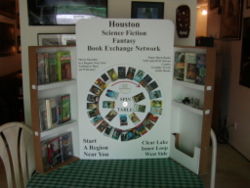 Sometimes Clubs cannot commit the manpower to man a table for the required length of time. Club displays can fill the void. They are a cross between a manned table and a stack of flyers. Its less work during the days of the events for the club, and it can make for a more tidy appearance of the public areas.
If you tell your clubs ahead of time, they can create Science fair type free standing displays to promote themselves. These are usually set up at no charge in the main corridor or lobby of your facility.
Suggested Rules
Clubs may not sell merchandise at or near their displays. Anyone wanting to sell product should refer to the rules governing dealers.
Displays should comply with PG-13 sensibilities.
Each display must be integrated and self contained, all accessories must be attached.
Each display should be One-sided, It may be placed against a wall.
Free standing, usually on a table top.
Must not exceed a foot print of 36x24 (approx)
The exact display location is determined by Con staff
The display location will be in an area generally in the presence of convention staffers. This could include, but is not limited to: the dealers area, panel rooms, hallways, or registration vestibules.
Displays will have no access to AC power.
Battery operated Lights, Animated movements, music, or sound effects are permitted. Music and sound effects must have an adjustable volume control and an off switch clearly labeled as such.
Con is not responsible for lost, stolen, or damaged displays. Displays should not contain any extremely high value contents.
Con staff may move and relocate displays as needed during the course of the convention.
During off hours, displays may be removed by Con staff to a locked location. During this time, clubs have no access to the displays.
Clubs should be advised that their displays should not require permanent attendance. Any person need to move, setup, maintain, or monitor the display will require a convention membership.
During off-hours, Clubs may take down their own displays prior to closing and store it in a vehicle or hotel room at their discretion.
Displays must be available and ready to be set up by 10:00 am on Saturday morning.
Displays must be removed from the convention venue by the clubs at the end of the convention. Clubs should save them and improve them for next year.
Construction techniques
The minimum display base should be a free standing project display board. (Texas Art Supply :Item # 4019000)[1] or a Swing Box 3-D Display board (Texas Art Supply :Item # 1290010) [2]
Should contain your club Name, General Location of Activities, Web-site, and pictures and text to explain what you do.
Flyers or pamphlets should be available and stored in attached pockets.
A tethered sign up sheet should be available for people to join on the spot.
Sponsored Guests
Often clubs will collect funds and sponsor a guest to a convention. They may cover the guests fees or travel, and that guest is usually indicated as a sponsored guest in the literature.
Maintaining Contact
Cons will be well advised to keep their list of clubs and groups current. But in a few years any list will be lost or obsolete as turn over occurs in the clubs and the con. Also members of the public would benefit from such a list as well. There exists a wiki which allows the public to maintain its own directory of clubs organized by city. A persistent self maintaining directory will be of value for years to come.