Comprehension Convention Engine
From ConRunner
Comprehension Convention Engine is a software tool to help organize conventions. It is no longer being developed
Volunteer Provided Convention Tool
for Volunteer Run Conventions
Using Microsoft Office

Comprehension Convention Engine is a massively integrated and centralized convention organization software system. It is a database and management tool for a single person to comprehend all the known facets of convention planning. The work products of the planning effort take the form of printed or electronic documents.
It was created to address the problems of distributed event planning. A visible symptom of this problem would include such cases where con literature was self contradictory. For example, the program grid might disagree with the text of the program description in the booklet. More seriously, guests may be mistakenly over-booked, material resources may be inconsistently distributed, and generally the plans may be out of sync.
CCE solves this problem by compiling all know data about the con into well structured tables, and rigorously performing the scheduling and usage analysis. It employs "Type it once and forget it" methodology. Never type the same information again after the first time. From panelist names to equipment used, data flows from the centralized tables to the final publishable Word document without error. The entire package will be re-generated as needed to assure consistency.
System Requirements
CCE if for Office on Windows XP computers. It is supported on Office 2000 and higher.
Testers and Developers Needed
CCE has not been tested on Office 2007 on Vista as of February 2008. Nor has it been tested on any version for Macintosh. Visual Basic Developers in these environments are invited to help extend support to those platforms.
Convention Presentations
CCE has been presented, or is anticipated to be presented at the following conventions or venues:
Program Description
How it works
CCE comes in to main parts: Your data file, and the Engine. Your data file is your own, it remains under your control for all time. The Engine is a secure file that does all the work. It can be upgraded and patched without altering your data. With in the files are many lists, tables, and arrays to manage the data. The right hand chart describes the most important data flows.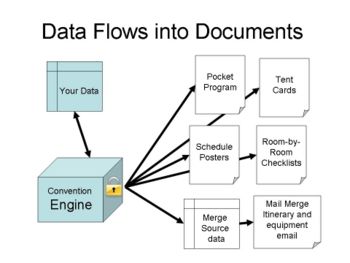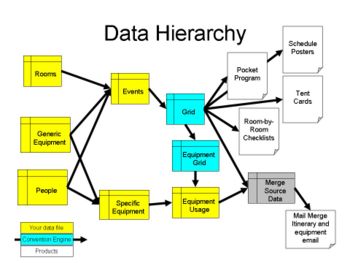 Smart Pocket Program
A key feature of CCE is an exported pocket program in MS Word format. That document is internally cross referenced with hyper links. You can click through from people, to their panels, to their cross references, and back again. With the right version of Adobe Acrobat Full version (not reader) you can create a PDF file with those hyper links intact. The sample file shows such a PDF file. The content is meaningless Lorem Ispum greek text and is just meant to demonstrate its smart features. File:Generated Pocket Program 2007-01-09-15-44-48.pdf
Mail Merge
CCE generates a merge source data file that can be used to send customized emails to your participants. It shows their customized itinerary and a list of the equipment they are scheduled to bring, along with its destination room.
FAQ
Frequently asked questions and answers can be found here: http://tbmorgan.home.att.net/COMPREHENSION_Convention_Engine_FAQ.doc
Testimonials
Conestoga 2007
I spent yesterday evening working with the new engine. It was WONDERFUL! I worked through 90% of my conflicts with my guests and am now ready to plug holes with some of the folks who have been lightly scheduled.

In addition, I got some good input from the CCE list on how to solve my "Special Events" problem and reduce the number of rooms I need to track. Now, I'm looking forward to starting on the volunteers and private events -- rather than dreading it.

I was so excited, I spent half of lunch today talking about CCE to a friend of mine who is a romance writer, working on their fall event. Would you be interested in another beta tester? They might be a good candidate if you are willing to cross the genre divide.

Brent, I'm expecting that there will be more issues as I work through the print merge and mailing issues and the pocket program. I'm sure that you will probably end up having to fix things for me before July, but I wanted you to know how exciting it was to have a realistic and workable tool to help with this.

Thanks,

Programming Chair, Conestoga 2007
External Link
http://groups.yahoo.com/group/convention_engine/
When you apply to the Yahoo group listed above, you will get an automatically generated email from yahoogroups.com. This is a short questionnaire that must be completed. It has been known to be captured by spam filters in email clients. Keep a watch out for that email in your filtered mail folder and take the specified action.