ConRunner
From ConRunner
Welcome to the ConRunner website, wherein we hope to document all aspects of running a successful convention. Please browse our subject pages, and if you have something constructive to offer, please do.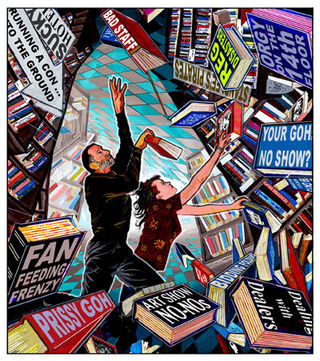 You will see philosophy statements in several places throughout this website. This is another one. Science Fiction fandom is, or at least could be, a very large and diverse community. One of the best ways for members of that community to meet each other is at a convention. A good (well run) convention attracts more people, and more people can have more enjoyment together. So the better we do it, the more fun we have, and the more of us that are likely to take part. Eventually we rule the world. Easy. Lets get to work.
More seriously, please do take the time to add to or to correct what you find here. Red Links mean there is an unwritten article page just waiting to be filled with information. There probably isn't a single right way to run a convention, but there are lots of bad ways to do it. If we can steer people in the right direction(s), point out the worst errors and the best approaches, the Pros and the Cons, then the bad will be minimized, and the good maximized. Hopefully, a good time will be had by all and the heartbreaks will be few.
Acknowledgement and Disclaimers
This site is not directly affiliated with Mr Ian Sorensen or his excellent work with the fanzine Conrunner. Other than making use of the same name that is. Imagine the surprise, while coming up with a name for this site, at discovering it had been used as a magazine title 20 years earlier! Mr Sorensen has granted his assent to use the name here, and for this we are quite thankful. This site is also not connected to the Conrunner convention. Again, the names stem from a common term used in fandom, but the association ends there.